To ensure our members get the best experience possible at Bluecoat Sports, we recently launched a gym only membership for £24.99 per month, meaning you have more choice in how you join us.
This membership type is fantastic value and is perfect for using just our gym facilities to train, get fit and attend our group training sessions.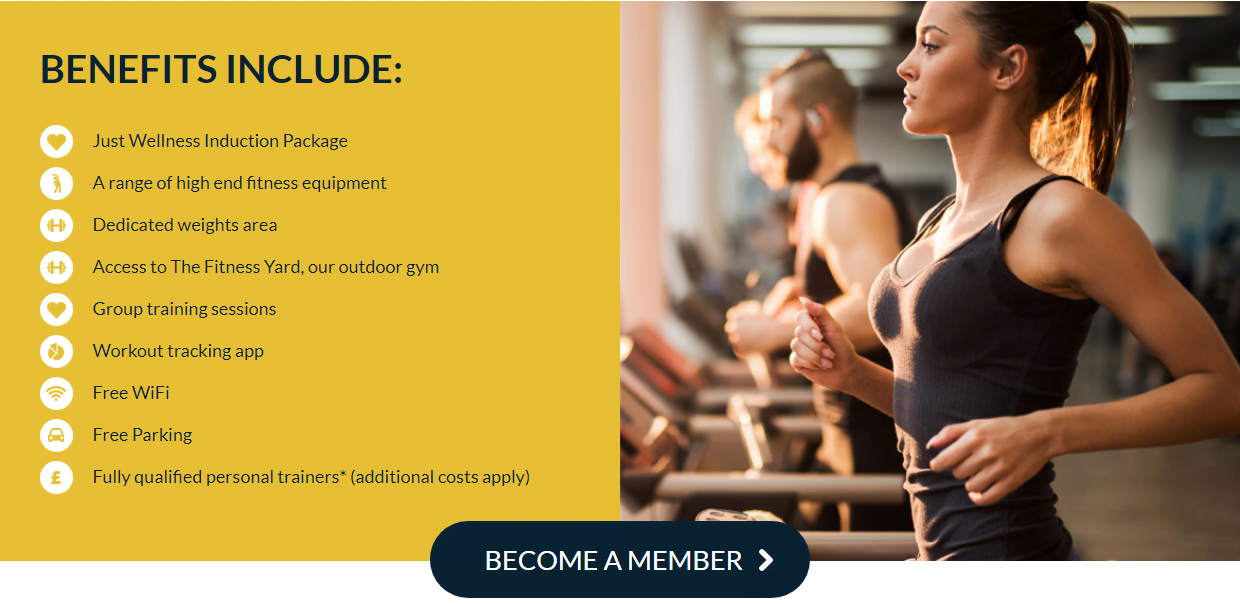 How is this different from the existing Bluecoat Sports Membership?
Our gym only membership is a streamlined version of the all-inclusive Bluecoat Sports Memberships, which start from a higher rate of £35 per month.
As a less expensive membership, it restricts access across our facilities and is a cost-saving choice. In comparison, the all-inclusive membership also includes the use of our 25m swimming pool, squash courts, tennis (indoors and outdoors), badminton, table tennis and discounted offers where applicable.
However, Gym-only members can benefit from the use of our fully equipped indoor gym as well as our new outdoor gym, The Fitness Yard which includes a multi functional rig, squat racks, a four lane sled track, and a fitness container full of multi functional gym equipment
How is it different from nearby gyms in Horsham and West Sussex?
Our gym facilities are first class and include high end fitness equipment that allow you to accurately track your workouts and progress. Spread across two floors with a dedicated weights area, it's a comfortable, motivational environment to enjoy. Once you finish a workout, our refurbished changing rooms and showers are ready for use.
Yet, what sets us apart from other gyms in the Horsham area? Our gym only membership actually gives you more than you might expect. You'll also benefit from:
Our outdoor gym 'The Fitness Yard'
Group training sessions
All hours of use (not restricted)
Free parking
Free Wi-Fi
Our workout tracking app
Our outdoor gym, The Fitness Yard, which launched in late 2019 has become a highlight for existing members. Feedback has been great and it's an added bonus to have the choice of training indoors or outdoors in rain or shine.
We also don't restrict your use of the gym based on peak and off-peak hours; you can use it anytime during our opening hours.
Exclusive rewards and deals
When you join you can download our free BCS app which we developed exclusively for our members, you'll see a range of unique offers from fitness brands to spa breaks and activities. Browse and take your pick of what's on offer, perhaps during a cool down!
Another bonus feature of the app is earning reward points from workouts; everytime you track a workout in the app you'll earn reward points for items such as BCS merchandise, smoothies, and juices from our café, as well as the chance to earn a free 30 minute personal training session.
How to become a member
You can become a member with us by speaking to our team at reception, filling out our online membership form or calling us on 01403 247 572 for more information. We're more than happy to discuss our memberships and what's included and how we can offer you further help with fitness.
In addition to our gym only membership and the all-inclusive memberships, we also have family memberships and junior membership options for children between the ages of 0-15 years.
All members are also offered an induction session when they join to take you through the facilities, the machines and our general rules of conduct in the gym.