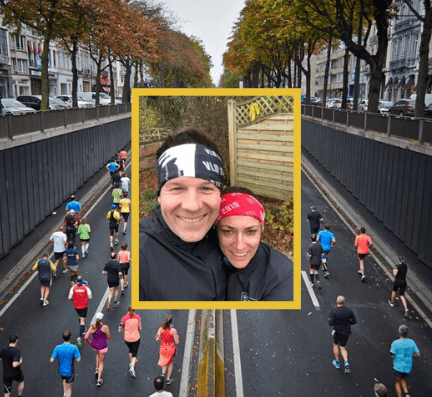 Bluecoat Sports is pleased to support two of their members, Fiona and Mark Christer, as they take on the Virgin Money London Marathon in support of Children with Cancer UK.
The duo will be taking part in the 26.2 mile race across the capital on Sunday 26th April on behalf of Children with Cancer UK, a leading national charity for the fight against cancer.
In this blog we talk to Fiona and Mark about their experience with running and preparing for the marathon.
Running. Love it or hate it?
Fiona: Well, I must admit I wasn't always a fan. In 2013 I decided I needed to get fitter. I joined a running for beginners class at Bluecoats and by the end of the course I was running 10km. It wasn't easy, but felt like a great achievement.
Fast forward a couple years, some time off running through injury and losing my mojo at times, I ran the Mel's Milers 10km with a friend (who is much faster than me!) and also completed the Barns Green Half Marathon – both of which I can highly recommend to local runners.
Mark: I have run on and off for years, up to 6 miles, depending on work commitments. I had taken part in one 10km race. We moved to Barns Green in 2009, we had no idea there was a half marathon here! I think it was 2012 I ran the half marathon for the first time, roping in my brothers to join me. It's a fantastic course, but probably not the easiest half to undertake as your first.
So, why run a marathon?
Fiona: London is meant to be one of the greatest marathons in the world for its atmosphere and support. We have lost friends and family to cancer, so we made the decision to apply for a number of cancer charities. Our son lost his friend to this awful disease. We were thrilled (and daunted) to be offered a place to run for Children with Cancer UK. What amazing work they do.
Mark: In 2019 we ran together to raise money for them, in what was supposed to be a one off joint experience. We were lucky enough to be offered a place again to run the marathon for them this year. Knowing the difference their work makes, but also witnessing first-hand the impact of this disease on the patient, their family and friends, with the ripple effect impact that simply last years and years, forever, it had to be a yes.
As we enter 2020, training starts in earnest. It's not easy after a few weeks of indulgence and there's still so much cheese and chocolate in the house! Bluecoats have kindly agreed to a special discount for us to support our training.
Hopefully, we will reach the start line better prepared and stronger than last year. The journey from now to crossing the finish line is far from easy. There's plenty of highs and lows along the way and we hope to share some of this journey with you over the next few weeks.
How can you help?
Bluecoat Sports will be hosting a Spinathon on Saturday 1st February as part of the Open Weekend to help collect donations for Children with Cancer UK on behalf of Fiona and Mark. Two spin bikes will be located in the foyer and we will be spinning from 08:30-13:00.
Alternatively, you can make a donation on their fundraising page.