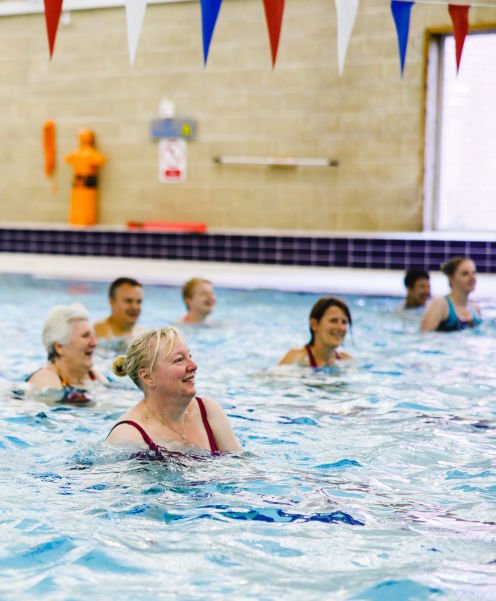 Whether you are a complete beginner, getting into swimming after a period of absence or want to improve your swimming technique, we have a swimming lesson or course for you.
Whatever support you need with your swimming, the Bluecoat Sports Swim Academy team is here to help. Available for both members or Pay As You Go members, simply email us at bluecoatsswimacademy@christs-hospital.org.uk to book your adult swimming lessons.
Our adult swimming sessions and lessons
Our adult swimming sessions and lessons offer something for every adult looking to improve their swimming skills. From complete beginners to confident swimmers, we have a session for you.
Our weekly Hints 'N' Tips adult swim drop in is a great opportunity to get some hands-on help from our expert Swim Academy instructors. One of our Swim instructors will be poolside during our normal lane swimming to provide tips and advice to help you improve whilst you swim. This is perfect for adults wanting to work on a particular stroke technique or those needing a refresher on technique. Please check the pool timetable for up to date information on these sessions.
We also offer personalised 1:1 private swimming lessons for adults. These 30 minute sessions allow you to get tailored instruction focused on your specific goals and abilities.
For adults looking for a more structured program, we offer group lessons for adult beginner and adult improver courses. The beginner course starts with the fundamentals to give you water confidence and builds up your skills from there. Our improver course is great for swimmers who can already swim short distances but want to improve their strokes and breathing to become stronger swimmers.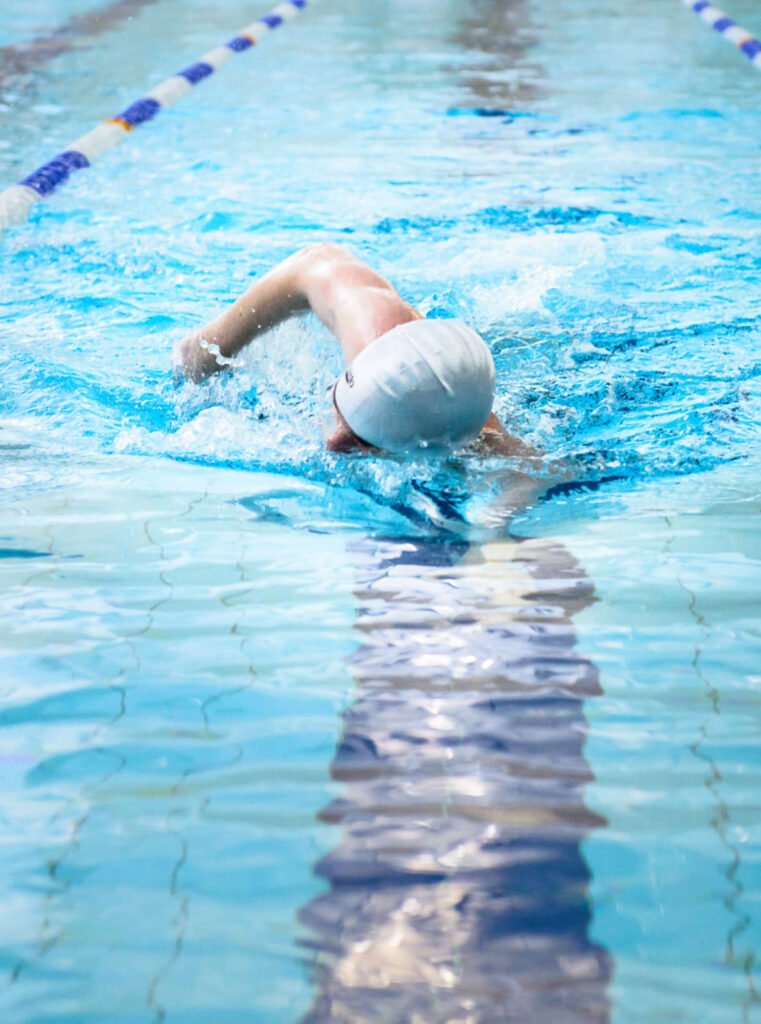 The benefits of adult swimming lessons
Improves overall fitness
Swimming is a fantastic way for adults to improve their overall fitness. It provides a full-body workout that engages all the major muscle groups including arms, legs, core, and back. The resistance of the water makes it an effective strength-training exercise. Swimming also gets your heart rate up and improves cardiovascular endurance. It's a low-impact activity that is easy on the joints, so it can be done throughout adulthood and as you age. Adults who swim regularly will see improvements in their strength, flexibility, endurance, and cardiovascular health.
Supports weight loss and healthy lifestyle goals
Incorporating swimming into an exercise routine can help adults meet their weight loss goals. Swimming burns lots of calories so it increases your calorie expenditure. The more you swim, the more calories you burn. It also builds lean muscle mass which boosts your metabolism so you burn more calories even at rest. The resistance provided by the water makes swimming an efficient strength workout that builds muscle. Swimming is an effective form of interval training as well, alternating between short bursts of intense swimming and recovery periods.
Enhances mental wellbeing
Swimming can greatly improve mental well-being in adults. Being immersed in the relaxing environment of a pool can induce a meditative state and help reduce stress levels. Learning new swimming skills also provides a sense of accomplishment. Developing swimming confidence gives adults a general sense of capability that transfers to other parts of life. Socialising with other adult swimmers also enhances mood and improves mental health.
Builds confidence
Learning proper swimming techniques through lessons builds body awareness and coordination in adults. Becoming a proficient swimmer makes adults feel much more confident and capable in the water. It provides them with an important safety skill as well. Adults who have confidence in their swimming abilities are more likely to enjoy water-based activities and exercise. They know they possess the skills to keep themselves safe in aquatic environments. Swimming lessons lead to improved technique which leads to greater confidence and enjoyment of swimming for adults.
Provides a low-impact exercise option
For adults with pain, mobility issues, or arthritis, swimming provides a fantastic low-impact exercise option. The buoyancy and reduced gravity provided by the water means there is less strain and impact on joints throughout the body. Swimming allows for active exercise while avoiding the higher impact of activities like running or jumping. Water aerobics classes are another great low-impact pool option for adults. Swimming is a safe long-term exercise choice for maintaining mobility and range of motion. The low-impact nature makes it well-suited for adults as they progress through middle age and older adulthood.
Sign up for adult swimming lessons
Browse our range of swimming lessons online and sign up today. We're proud to offer classes for all types of swimmers and are here to help you build water confidence and reach your goals.