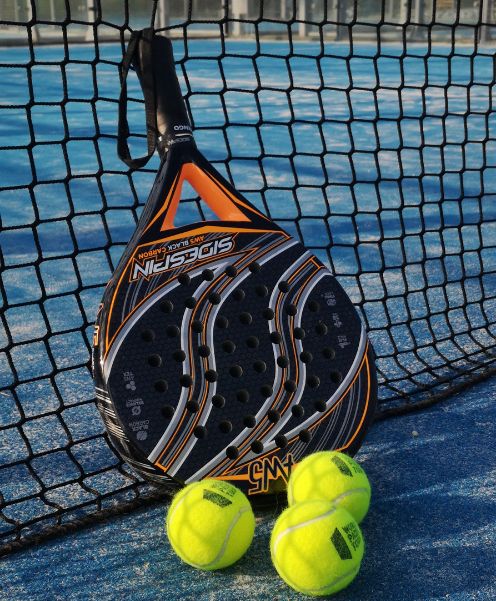 We are proud to offer a wide range of racket sport facilities for all your sporting needs. In addition to our 6 squash courts and 6 outdoor tennis courts, we are excited to introduce our newest addition, coming soon: four padel courts!
Padel, a fast-growing sport globally, combines elements of tennis and squash to create a unique and exhilarating experience. Our state-of-the-art outdoor courts will be available for hire to both members and non-members, so everyone can enjoy this exciting game.
Whether you are a seasoned padel player or trying it out for the first time, our courts are designed to provide the perfect setting for a thrilling match. Padel is a social sport, perfect for getting active with friends or meeting new people. So gather your friends or family, book a court online, and get ready for an unforgettable game!
Please note, our padel courts aren't open yet but will be available in 2024. Check back here at a later date to find out more about when our padel courts will be opening.
Health Benefits
Padel is a dynamic and popular sport that is gaining momentum in the UK. Combining elements of tennis and squash, it is played on a smaller court with solid walls and a stringed racquet similar to tennis. Padel tennis offers numerous health benefits to individuals of all ages and fitness levels.
Improved cardiovascular fitness
One of the key advantages of playing padel is its cardiovascular benefits. The fast-paced nature of the game requires constant movement, which helps to improve endurance and stamina. Regular participation in padel tennis can contribute to a healthier heart and improved overall cardiovascular fitness.
Improved muscular strength
Padel also helps to improve muscular strength and endurance. The sport involves using a racket to strike the ball, which engages the muscles in the arms, shoulders, and upper body. The constant movement and quick reflexes required to play padel also works the lower body muscles, including the legs and core.
Social interaction
Joining a padel club or hiring a padel court with friends offers a great opportunity for social interaction and mental well-being. Playing the sport with friends or family members not only provides a fun and enjoyable experience, but also helps to reduce stress and anxiety. Engaging in physical activity releases endorphins, which are known to boost mood and improve mental health.
Easy to learn and play
The smaller court size (compared to a tennis court) and solid walls make it easier for beginners to pick up the sport compared to traditional tennis. The slower pace and shorter rallies allow players to focus on technique and strategy, making it a great option for individuals of all skill levels. Additionally, padel tennis can be enjoyed by people of different ages and fitness levels, making it a versatile sport for everyone to enjoy.