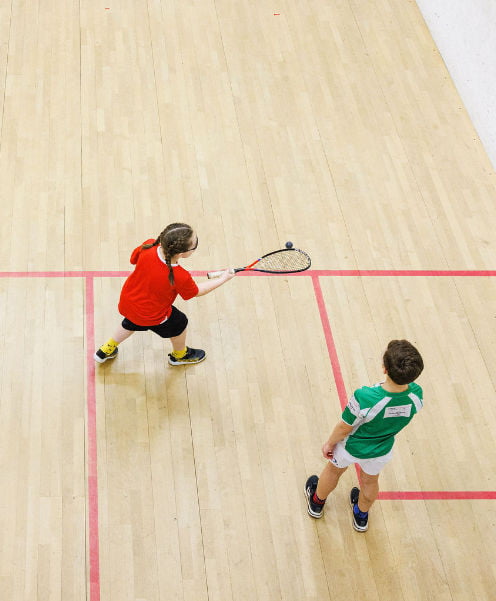 We know that from 5 years upwards it's really important to keep kids active and enjoying sport. They will have started school and are spending more time sitting and learning with perhaps just a weekly PE session. With this in mind, we've put together a programme of courses and classes with something to interest every child, whether they are the next Wimbledon champion, enjoy walking on the balance beam or want to get to grips with racket sports!
Check out our timetable to find the perfect activity for your little one and register your interest today.
Squash
Squash is a fantastic sport to get kids playing sport and working out as it's incredibly active. Our coaches work with children at all levels of ability, whether they are just starting on the squash court, have played a little or are more advanced players. These squash sessions build the children's confidence and develop their skills, whilst playing in a fun and friendly environment. View our timetable and secure your child's place.
Jump 'N' Play
Enjoy some quality time with your juniors at our parent & child (up to the age of 6) play session. In this session, your junior can jump away on the bouncy castle, tumble across the soft play, explore on the ride-ons (cars/trikes) and let their imagination run wild with our arts & crafts activities. Make your way around a variety of activities together, whilst playing alongside and meeting new children. Have fun and burn off some energy along the way!
Suitable For : Under 6 Years
When : Every Wednesday 09:45-10:45 & 11:00-12:00
Memberships Included : PAYGO
Beginners Junior Squash 5+
This session offers an introduction to the game of Squash for juniors aged 5+. Friendly and knowledgeable Club coach Kit Pearman will introduce them to key technical skills and build upon hand/eye-coordination abilities. Learn new skills and have fun along the way, playing games and taking part in Squash drills whilst meeting new people. Try out something new, have fun, and burn off some energy along the way! A great after school activity!
Suitable For : Anyone aged 5+
Class Duration : 45 minutes
Equipment Needed : Drink, Your own racket or racket hired from Bluecoats
Memberships Included : PAYGO
Improvers Squash 6 – 8 years
This session works on improving our Juniors Squash skills; working together in a fun environment to develop their technique, hand/eye coordination and fitness with the Club Coach, Kit Pearman.
Suitable For : Ages 6 – 8
Class Duration : 45 minutes
Equipment Needed : Drink, Your own racket or racket hired from Bluecoats
Memberships Included : PAYGO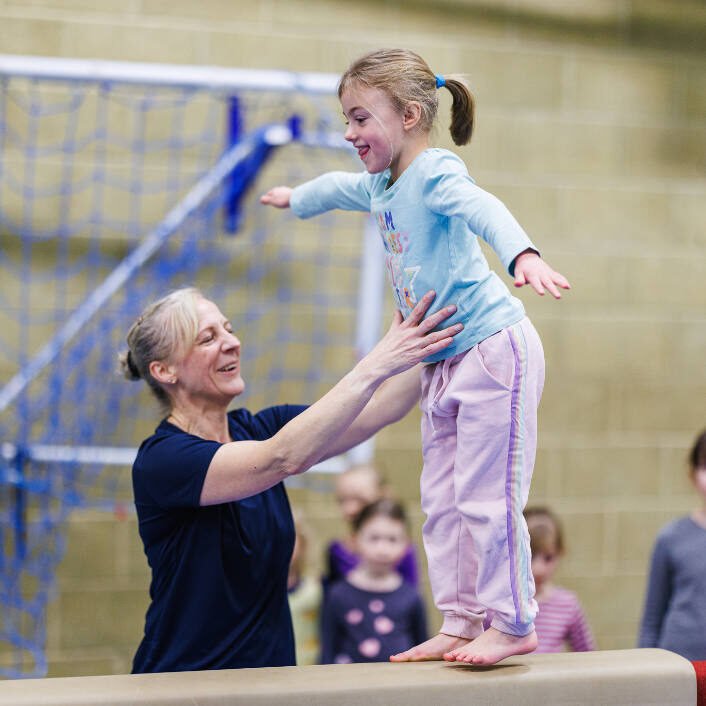 Register for gymnastics courses today
Gymnastics Courses (5+)
Budding gymnasts aged 5-8 years can join our term time gymnastic courses. This course is suitable for boys and girls of all abilities. Through structured learning and play, learn the gymnastics skills in a safe environment, using a selection of gymnastic apparatus including the beam, bars, vault and floor. To help encourage our junior gymnasts, they can follow British Amateur Gymnastics Association (BAGA) scheme to mark their achievements with badges and certificates, which are included in the course cost.
The fun doesn't have to stop once your child turns 8, they can continue building their strength and flexibility from 8 years upwards in our gymnastics courses, which also give the opportunity for further BAGA awards.
Please get in touch with our team on 01403 247572 to find out about upcoming courses.
Suitable For : Anyone aged 5+
Cost : 14 week term (£69) 12 week term (£81)
Memberships Included : None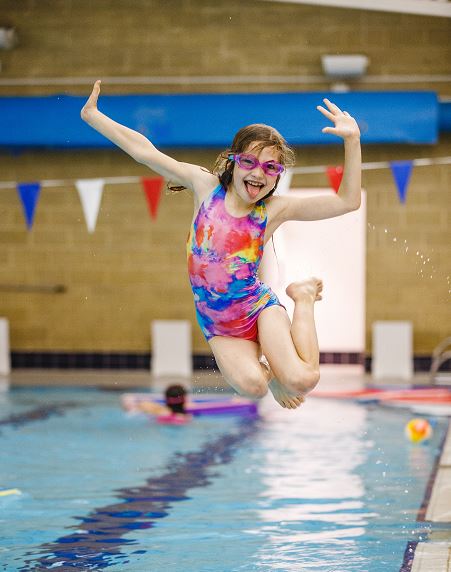 More about Swim Academy
Learn To Swim
If you have school-aged children, they can join our after-school sessions on weekdays and Saturday mornings. These are structured lessons and cater for complete beginners to the more advanced. Children can develop at their own pace with our professionally trained Swim School Instructors, progressing through the different levels. The team continuously assess children throughout to make sure they are in the class which is right for them.
To sign your child up for after school swimming sessions, contact us today on 01403 247572 or email bluecoatsswimacademy@christs-hospital.org.uk. We'll then send out a booking form and once you've filled this in, we'll invite your child for an assessment to gauge their swimming ability.
Suitable For : From school-age
Class Duration : 30 minutes
When : After-school sessions on weekdays & Saturday mornings. Sessions run for 44 weeks a year (Breaking at Easter, 4 weeks in Summer & Christmas)
Cost : £28.00 pcm (via direct debit)
Memberships Included : None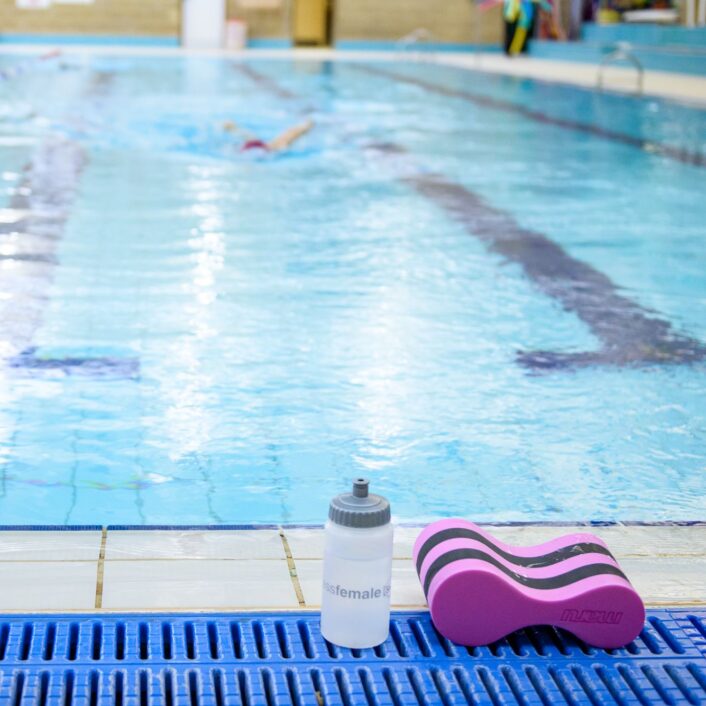 More about 1:1 swimming lessons
1:1 Swimming Lessons
Some children (and adults) need more individual attention to help them develop their swimming skills. We offer 1:1 lessons for children or adults who want more support with either learning to swim or improving their swimming. Our friendly instructors help you build your confidence and develop your breathing and swimming techniques so you become a more confident and proficient swimmer. Alongside our 1:1 sessions we also offer the option of 2:1 for siblings or friends close in ability.
If you or your child would like 1 to 1 swimming lessons, please contact Bluecoat Sports on 01403 247572 or email email bluecoatsswimacademy@christs-hospital.org.uk.
Class Duration : 30 minutes
Equipment Needed : Towel, Swimming Costume
Cost : 1:1 – £22.00 per session, 2:1 – £29.00 per session (£14.50 per person)
Memberships Included : None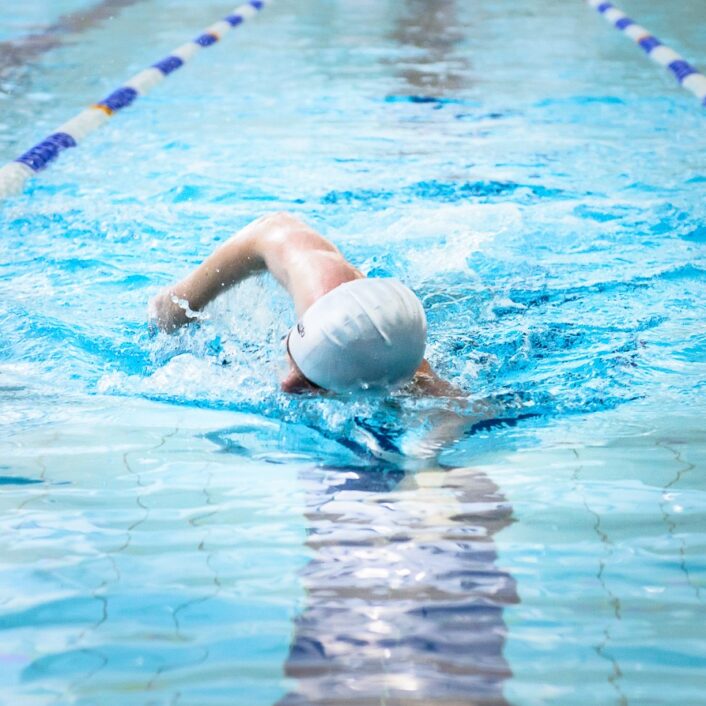 More about Intensive Swimming Courses
Intensive Swimming Courses
During the Easter and summer holidays, Bluecoat Sports offer weeklong intensive swimming courses for those wishing to brush up on their technique, learn a new skill or just try something completely different. These courses cater for children of all abilities from the complete beginner to the more advanced including Front Crawl/Backstroke and Breaststroke/Butterfly stroke clinics. For those wishing to develop other swimming skills, we offer Snorkelling and Rookie Lifesaving. The daily sessions are 30 minutes over the 5 day course.
Please keep an eye here and on our Instagram and Facebook for updates on future Intensive Swimming Courses.
Suitable For : From school-age
Class Duration : 30 minutes
When : Easter & August Holidays
Memberships Included : None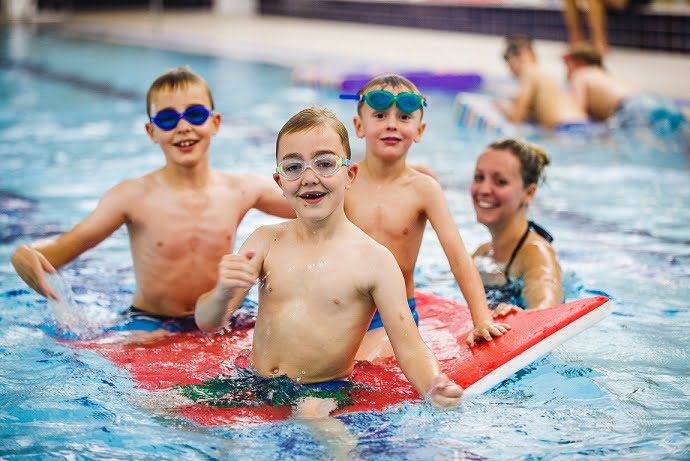 View the Pool Timetable
Family Swim
Enjoy swimming as a family! Bring your own floats, inflatables & toys to play with as a family. Family Swim takes place most Thursday mornings and Saturdays and Sunday daytimes during term time and at various times during the holiday too. It's the perfect family activity to burn energy, have fun & spend some quality time together.
Call 01403 247572 to book your space. Check the Pool Timetable for Family Swimming times.
Class Duration : 45 minutes
Equipment Needed : Towel, Swimming Costume
Cost : Members can bring up to 3 guests. Adult £4.50/Child £2.50
Memberships Included : Full, Swim