At Bluecoat Sports we understand the need to look after your body, not just with exercise but with treatments that complement and work alongside your fitness activities.
We have a treatment room here at the club so can provide you with tailored treatments to support your health and wellbeing and help you be your best possible self. Learn more about our sports and massage therapist below and book an appointment at our Horsham treatment room today.
Daniel Jeffries –
Sports Therapist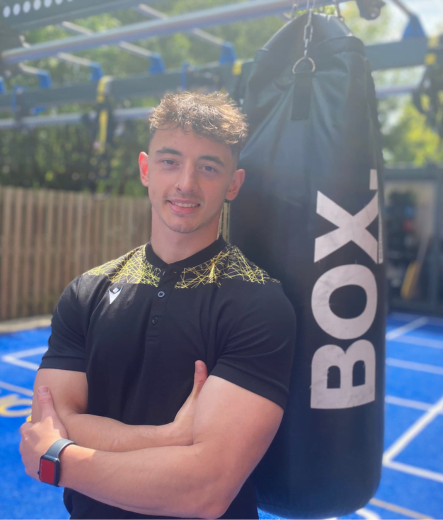 Qualifications
BSC (Hons) Sports and Exercise Therapy
Level 2 Gym Instructing
Daniel's focus is on helping clients return to pre-injury strength and fitness, whether their goal is to return to the sport they love or to perform daily tasks without pain or discomfort.
Daniel studied for 4 years at Southampton Solent university to achieve his status as a member of the Society of Sports Therapists. He is currently the lead therapist with Crawley Wasps FC, where he looks after the physical well-being of the team.
He offers initial injury consultations, 1-2-1 rehabilitation sessions, follow-up sessions and sports massage. To book an appointment, contact Daniel directly via email.
What is Sports Therapy?
An aspect of healthcare that is specifically concerned with the prevention of injury and the rehabilitation of the patient back to optimum levels of functional, occupational and sports specific fitness, regardless of age and ability. It utilises the principles of sport and exercise sciences incorporating physiological and pathological processes to prepare the participant for training, competition and where applicable, work. (Society of Sports Therapists)
Whether you are an athlete, fitness/sports enthusiast or desk bound, using detailed assessment, hands on soft tissue manipulation, joint mobilisation and an individualised exercise schedule, a sports therapist can help you restore, maintain and maximise movement, relieve pain and get you back to pre-injury strength and fitness.
What is Sports Massage?
Sports massage is a proven technique for relieving muscle tension, muscle soreness and is also used for injury prevention. A sports massage is beneficial for anyone who is looking to reduce pain, injury and tension after a workout or partaking in sports. They're especially beneficial for those who are injury prone and want to help their body relax and recover.
Benefits of sports massage therapy
Reduced muscle soreness
The muscle pain you feel 1-2 days post workout is known as delayed onset muscle soreness. A post workout sports massage can help reduce the soreness and pain you feel after a gym session. A sports massage helps get rid of waste products such as lactic acid which can cause this pain.
Improved circulation
A deep tissue massage helps to relax your muscle tension. This improves blood flow and blood circulation around the body which means your muscles get the nutrients they need quicker.
Reduced injury time
Sports massages encourage muscle tissue to grow, heal and repair quicker. This aids in the healing of your muscles, meaning less time out of action when injured.
Better movement
Another benefit of using a sports massage therapist is they can help with improving your overall movement. Massages can stretch out your muscles and increase the fluid within the joints. This can reduce stiffness and frees up movement.
Stress relief
Massages help reduce tension and stress in our bodies. Stress can put the body under a lot of pressure, so regular massages can help prevent injury and illness.
CALL US TODAY ON
01403 247 572