Bluecoat Sports are proud to be headline sponsors for this years Run Wisborough (RW) event on Sunday 15th May. Following on the successful return of the event last year, we now look forward to supporting RW without any COVID restrictions.
Run Wisborough and Bluecoat Sports

Wisborough Green falls within the Bluecoats catchment area and with so many of members living within it, it made perfect sense for us to be a bigger presence this year. The event itself is a chip-timed, multi-terrain race held every year in the picturesque village of Wisborough Green. Much like the values of BCS, the Wisborough Green community come together by either helping to set up, prepare, cheer and even participate. People enter the race from across the Southeast providing a balance of fun runners to serious competitors.
The event itself provides parking, toilets, Sports massage as well as refreshments throughout the day. Each finisher will receive a medal with prizes given in the categories below:
10k Race
Male – Overall 1st/2nd/ 3rd
Female – Overall 1st/2nd/3rd
Male Junior – Winner
Female Junior – Winner
Male V40 – Winner
Male V50 – Winner
Male V60- Winner
Male V70 – Winner
Female V40 – Winner
Female V50 – Winner
Female V60 – Winner
Female V70 – Winner
5K Race
Male – Overall 1st/2nd/3rd
Female – Overall 1st/2nd/3rd
Male Junior – Winner
Female Junior – Winner
We Are The Main Sponsors
As main sponsors for this year's run, we have prime location of our stall and we also have the responsibility for starting the race. Vicky, one of our fantastic group exercise instructors will be warming up all the runners before the race. As well as this our Sales and Marketing manager Arron will be running in the 10km race. Knowing Arron, he will be handing out BCS leaflets as he runs round the course!
This event is important for BCS in terms of developing external relationships and fostering that community aspect which we share with the residents of Wisborough Green. Whilst we aren't actively looking to engage in new memberships in the event, we are wanting to increase awareness of who we are and the facilities that we offer.
Wisborough Colour Run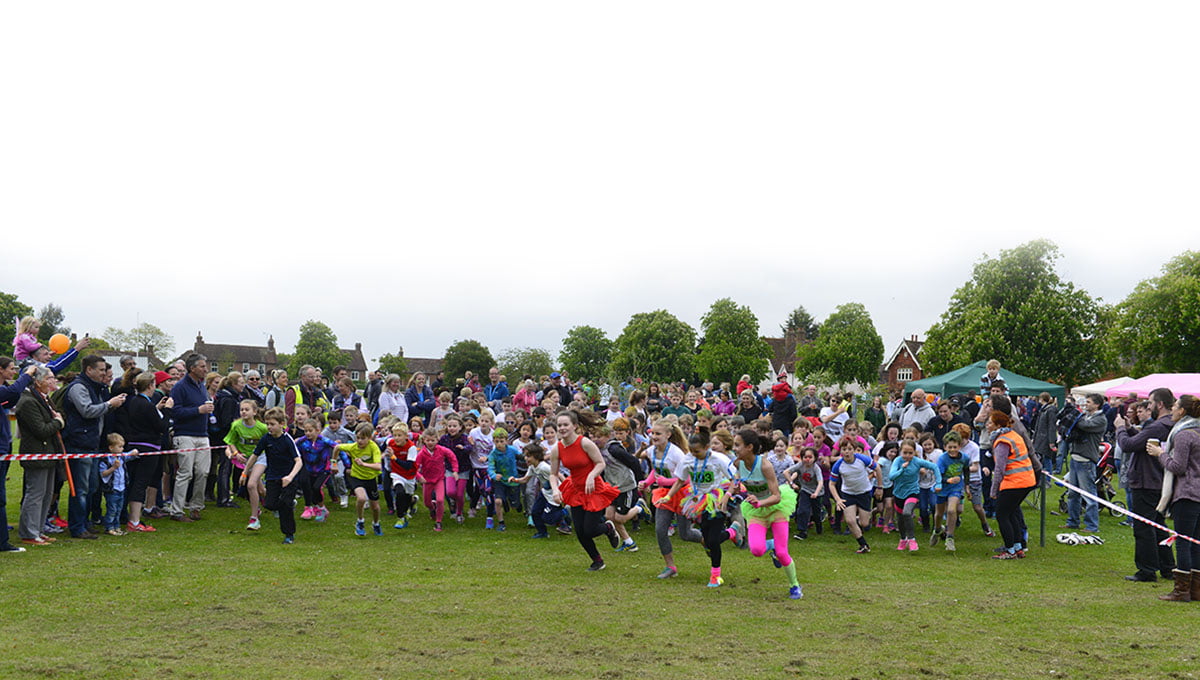 Part of the RW race is the colour run aimed at kids under 11. Age groups are based on the total number of entries. Children between the ages of 4-7 run one lap around the village green and through the colour run area whereas kids under 11 run two laps before going through the same area. All children will receive a finishing medal.
Join Us!
Whilst the RW event is a competitive race, the element of fun and taking part shouldn't t be discouraged. During the times of lockdown, exercise played such an integral part of keeping our sanity and mental health strong and the surge in participation at running events has since continued. Whether you are a new runner just looking to compete against yourself, or against others, then come and try the RW race.
Should you be interested in joining this year's race then please head over to RunWisborough 2022 where you can gain all the information needed to participate.