At Bluecoat Sports we pride ourselves on providing excellent service to our customers, through our outstanding facilities and our superb customer service. However, none of this would be possible without the efforts our fantastic team put in everyday! Each and every team member plays an important role in running our sports club, and we'd be lost without them.
We are often looking to add new members to our team, not only to aid the business but also to help people progress in their chosen field of work. Here are some of the benefits of working for us, and some of the positions we currently have available.
Joining Our Team
Here at Bluecoats, we value all of our team members and offer a fun working environment surrounded by our wonderful members and fellow team mates. With your position at Bluecoats you will be offered:
A competitive salary
Pension scheme
Free lunch during term time
Discounted club membership
Free on site parking
Life assurance
Employee assistance scheme
Perks at work scheme
We follow four key areas to aid all of our team members in contributing to the success of Bluecoat Sports. These 'pillars of success' draw attention to the importance of good customer service, leadership, communication and commercial understanding. With the use of these pillars, you will learn and grow within the job and be provided with the necessary tools to flourish in the field. Discover more about working at Bluecoats.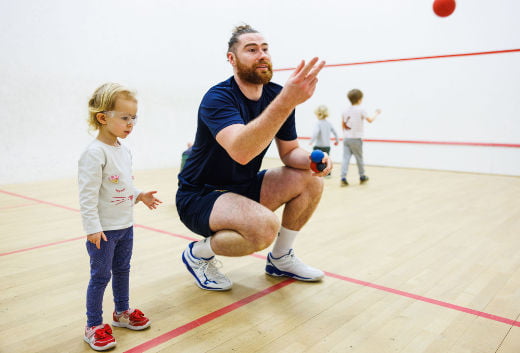 NPLQ Qualification
The National Pool Lifeguarding Qualification (NPLQ) is a vital qualification for those who want to work in the lifeguarding field. It is highly regarded by many sports clubs worldwide, including us, and will aid you with job opportunities.
At Bluecoats, we offer the NPLQ at our swimming pool. The course is run over 5 days, typically from 8am-6pm. Training for the NPLQ is often split into three sections:
The lifeguard swimming pool and supervision
Intervention, rescue and emergency action plan
CPR, AED and first aid
Participants must be 16+ and able to meet certain requirements in order to take part. Visit our website for more information on these requirements and how to apply.
Find out more about joining the NPLQ at Bluecoats
Current Available Positions
Please see below the current positions available within our operations team. If you, or somebody you know, is interested in joining the team, then please visit our current vacancies to apply online – we'd love to have you join the team!
Duty Manager
We are looking for a Duty Manager to take on one of the leading roles within our team. The Duty Manager's role is both customer and team focused, which brings an excellent opportunity to develop confidence and experience in managing a team. As Duty Manager, your responsibilities will include:
Coordinating, distributing and overseeing the completion of daily tasks by your team to ensure the club remains safe, clean and presentable
Manage the safety of the swimming pool through daily pool testing, problem solving, coordination of pool activities and lifeguard management
Oversee a range of operational health and safety processes, ensuring all checks are completed and recorded to a high standard
Lead the operations team in safety and first aid situations
Manage additional responsibilities such as rotas, recruitment, fire safety, risk assessments, recording and reporting
In order to take on this role, you will be expected to hold certain qualifications and skills, such as:
You must have a good standard of education up to at least GCSE standard
An NPLQ will need to be obtained upon employment (with the opportunity to receive funding for this)
Experience within the leisure industry isn't essential, however it is desirable
This role is full-time, with 40 hours per week on a shift rota basis including evenings and weekends within the club's opening hours.
Recreation Assistant (Lifeguards)
We currently have both full time and casual Recreation Assistant roles available. Within this role you will need to assist the Duty Manager with ensuring that the club is safe and presentable whilst also delivering excellent customer service. You will also be expected to:
Assist the Duty Manager in ensuring safely within the swimming pool through lifeguarding duties
Ensure the club remains safe and presentable through undertaking cleaning duties
Support the set up and take down of equipment to ensure the smooth running of all operational activity within the club
Cooperate with your team, members and school pupils
An NPLQ is required to fulfil this role. If you do not have an NPLQ already, then please see further details here.
The full-time Recreation Assistant role is 40 hours per week on a shift rota basis, and may include some weekends. The casual role will be on a contract basis with hours dependent on the needs of the business and individual availability.
Working At Bluecoats
If you are interested in one of these roles, please contact us at bcshr@christs-hospital.org.uk, or, if you would like to obtain an NPLQ please see further details here. We look forward to hearing from you.