What have we have done…
Fitness Suite – As I'm sure you will of noticed the most obvious work was the extension of the Fitness Suite which included the introduction of the a Power Rack, Scott Bench, Olympic rack, additional benches and an enlarged free-weight section. There is still further works to do in this area to protect the walls but this will be carried out over the next few weeks.
Indoor Cycling – Over the Fitness Showcase weekend we have replaced the remaining 14 Mark 1 Keiser indoor Cycling bikes with a new Mark III Keiser model which includes Bluetooth technology for those wanting to link to their fitness apps.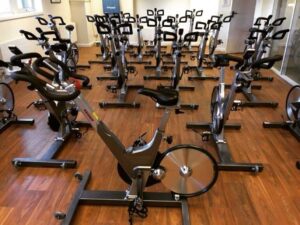 Café – We hope that both Members and Non Members have had the opportunity to utilise the new and improved café service which was upgraded at the beginning of the summer. Not only was the café refurbished but a tasty new food and drinks menu has been introduced.
Access Control – Last week we upgraded the access control to the changing room doors replacing the old mechanical locking mechanism with an electronic membership card or barcode entry system. This ensures a greater level of security for people using the changing areas and going forward will be significantly easier than the current system.
Flooring – The gymnasium floor was given a much needed face lift and now looks fantastic.
Behind the scenes – There was a small amount of disruption over the summer when we replaced the remaining 25 year old boiler and heat exchanger used to heat the water throughout the building.
We have replaced all of the light fittings in the Swimming pool with LED fittings. This will ensure that lighting levels remain consistent and don't require regular changing.
What we have to look forward to…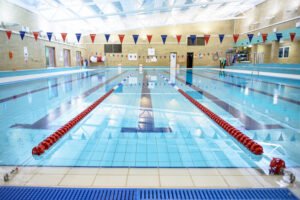 Squash Courts – We intend to replace the remainder of the Squash court lights and install the sensors to control their operation over the coming weeks. The fans will also be replaced and upgraded at this time.
Downstairs & Reception Area – The downstairs flooring throughout the club will be replaced, including the Reception floor area. The Reception desk will also be replaced.
Sports Hall – The sports hall flooring is having a complete refurbishment and a new partition wall is being installed.
Pool Side – Swimming pool surround and spectators area is being re-tiled.
Finishing on a well deserved rest at the end of a rather busy 2015!