Bluecoat Sports is happy to support this year Mel's Milers annual 10k race which is raising money for Medical Detection Dogs; a charity that uses the amazing power of the dog's nose to detect human diseases.
This annual race is taking place on Sunday 25th March, where it returns for its sixteenth year, with a friendly atmosphere and a fantastic setting with over 300 entrants. The race starts and finishes at Christ's Hospital, beginning at the quadrangle of the school and entrants will be able to use the changing rooms and shower facilities on site.
Raising money for charity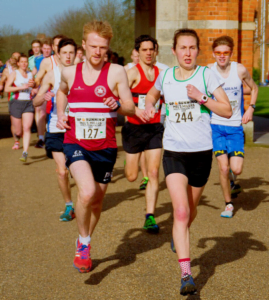 Each year, the event makes a donation to a charity from the proceeds of the race. The 2018 charity is Medical Detection Dogs.
Mike Clark from Mel's Milers said, ''this charity touches people's love of dogs together with understanding the advantages of detecting cancer early. Another aspect of their work is assisting people with conditions such as diabetes. The dog warns of a high or low sugar level in its owner thereby preventing a serious condition developing.
At Mel's Milers 10k run we will have an Assistance Dog with its owner on hand to explain how the charity has enabled her quality of life to improve."
Previous charities supported include Ovarian Cancer Action, Sussex Cancer Fund, Macmillan, Horsham Alzheimers, the Chanctonbury Play Scheme, Royal Marsden Cancer Charity, Help for Heroes, Springboard Project, Sussex Air Ambulance, and Chestnut Tree House. For more information on the race or to register, please visit Mel's Milers annual 10k race.
This year Mel's Milers will also be hosting a talk by the Medical Detection Dogs at Bluecoats on Friday, 2nd March at 10:30am and be hosting a cake sale in the café area of the club to raise additional funds for this worthy cause.
We hope to see you all there!