Swimming is a fun and healthy activity that many families enjoy together and parents may be eager to introduce their babies to the water. But when is the right time to start? While it can be tempting to take your little one for a dip as soon as possible, there are some important factors to consider to ensure their safety and comfort.
In this blog post, we'll explore when babies can go swimming, what skills they need to have, and how to make their first swimming experience a positive one. Whether you're a new parent or a seasoned swimmer, read on to learn more about this exciting milestone!
At Bluecoat Sports we're proud to offer swimming sessions for babies and children. Learn more about our swimming for babies and children.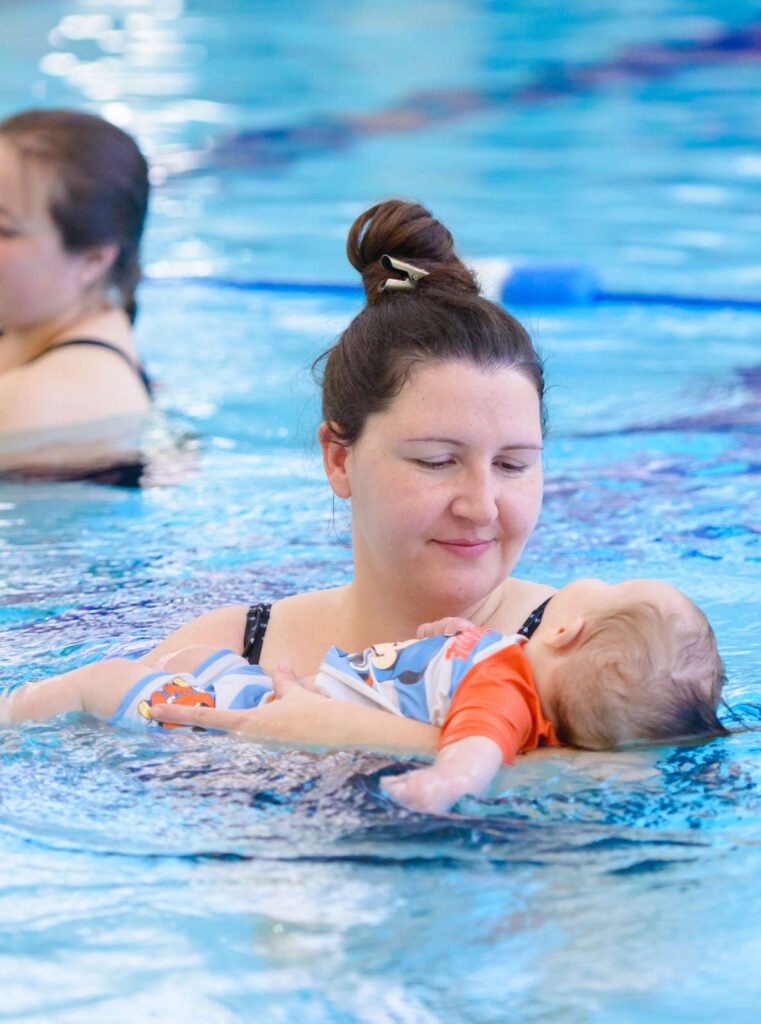 When can you take your baby swimming?
Babies can typically start swimming lessons around 6 months of age, although some programs may accept young babies aged between two to three months old. It's important to note that babies should only start swimming when they are physically ready and have developed some basic skills.
Things to consider before baby swim lessons
There are a few things to consider before your baby's first time in the swimming pool.
Physical development
Before you take your baby swimming, you must ensure that it has certain physical abilities. Such abilities are being able to hold their head up, sitting up on their own, and moving their arms and legs. Once your baby has reached these milestones, then it is safe to start swimming.
Safety
Safety should always be the number one priority when it comes to your baby swimming. Your child must always be supervised and supported when in the pool, and it's important to note the water's temperature and whether it is well-maintained and clean.
At Bluecoat Sports, our 25m pool is the perfect temperature for young children to enjoy the water and learn to swim, and we pride ourselves on offering junior swimming lessons for all abilities.
View our pool timetable to see when Parent & Baby Drop In sessions happen each week.
Swimming gear
There are a few essential pieces of gear that you will need when taking your baby swimming, such as swim nappies and a properly fitting swimming costume. It's important that you come equipped with these to any baby swimming sessions you may do, to avoid any accidents in the pool.
Baby swimming classes
Many parents choose to enrol their babies in swimming lessons to help them gain water confidence and learn water safety skills.
At Bluecoats we offer parent and baby swimming lessons supervised by our friendly and experienced Swim Instructors. Our lessons help your baby, guided by your support, gain confidence in the warm water and develop their swimming skills.
The infant swimming lessons will teach babies to:
Adapt to and discover the water
Jump in the pool
Submit and hold their breath underwater
Try assisted floating
Try supported kicking
Try independent kicking
Water safety
Our Swim Instructors use toys, games and fun activities to make the sessions enjoyable for everyone. Babies and toddlers will learn to swim in a relaxed environment and it's a special way to bond with your baby.
Swimming babies in Horsham
Swimming can be a great way for babies and parents to bond, but it's important to make sure your baby is physically and developmentally ready before taking them in the water. By following basic safety guidelines, investing in the right gear, and considering swimming lessons, you can help your baby have a positive and safe first swimming experience.
Always remember to supervise your baby closely and consult with your paediatrician if you have any concerns. With these tips in mind, you can enjoy the water with your little one and create fun memories together!
Get started in the pool with our wide range of junior swimming sessions. Simple book onto our parent & baby drop in sessions via our online timetable.