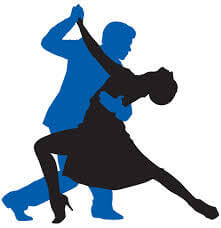 On Friday 4th December Bluecoat Sports invites you to a 'Strictly' Salsa Evening.
The idea behind the event is to celebrate Bluecoats 25th Year by holding an event at the club for both Members and Non – Members this Christmas. It will be sociable and fun though still fitness based. It will also give you the chance to try something new. The class is designed for the complete beginner and you don't have to come with a partner!
This is a ticketed event and guests can purchase a ticket either at Reception or via the Website. On the Website bookings can be made by choosing – Courses – December – Strictly Salsa.
The ticket prices are £2.50 for Members and £5 for Non – Members ALL PROCEEDS from ticket sales will be donated to the Coco's Foundation
Your ticket will entitle you to a complimentary glass of mulled wine or non –alcoholic alternative and a mince pie. You will also be entered into a prize draw where you will have the chance to win a Christmas hamper that has been purchased from the local produce shop Crates. The hamper will be presented to the lucky winner on the night!
The evening will start at 7.30pm. We have two professional Salsa Instructors (Wendy & Paul) that will be teaching a 45 minute group Salsa lesson starting at 8pm.There will then be latin music played for the rest of the evening giving you a chance to practice what you have learnt.
The dress code for the evening will be smart / casual.
The evening will end at 10pm.
We would like to take this opportunity to wish you a Merry Christmas and a Prosperous New Year!