Tennis is a much loved British pastime and if you've been inspired by Roger Federer winning his 8th Wimbledon title why not dust off your Tennis racquet and get out there.
Fun for all
The best part is that Tennis can be played by all ages. According to Tennis.com there are a multitude of benefits for children to play; not only does it help develop hand-eye coordination, gross and fine motor control, balance and body coordination but it also helps build acceleration, speed, leg strength, agility and flexibility. It also helps to promote overall good health in children. Tennis promotes work ethic, discipline and sportsmanship, and helps to sharpen their strategic and problem-solving skills.
Not just for the kids
Tennis also offers some amazing health benefits for adults:
Playing Tennis regularly is a great cardiovascular exercise as it works your heart and lungs.
Tennis helps with your gross motor skills and also your fine motor skills as you work hard to hit the ball.
Studies have shown that playing Tennis may help reduce the loss of bone mass, in fact, some Tennis players have shown bone gain in their playing arm and hips
A high-intensity game of Tennis can tone muscle, improve flexibility and enhance speed while effectively burning calories that will result in weight loss.
Studies have shown that when you exercise your body releases endorphins that make you feel good. It's no different with tennis.
Tennis is a great way to meet new people with common interest. It can sometimes be difficult as adults to make new friends but joining a Tennis class is a perfect way!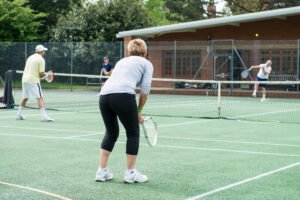 Come play with us
We offer a variety of Classes suitable for all ages and abilities and have 15 outdoor courts and 2 full-size inside courts to accommodate.  All our sessions are taught by fully qualified instructors.
 These include:
Weekly adult racquet Classes on Mondays, Tuesdays and Fridays
Tennis Classes for kids on Sunday mornings
An 11-week junior Tennis course on Saturdays
Junior improvers class on Fridays
Family Tennis on Friday evenings
View our adult classes.