2015 saw the introduction our September Fitness Showcase and this year we are back with more on the 24th September!
There's something for everyone from beginners to fitness enthusiasts so you can make your day as challenging or relaxing as you wish.
Discover a new line-up of Les Mills' experts accompanying our very own top fitness presenters, who are ready to take you on a journey for the day to a new level of success in the launches of Body Pump, Body Combat & Body Balance, alongside new taster Classes GRIT Cardio, GRIT Strength & CXWORX.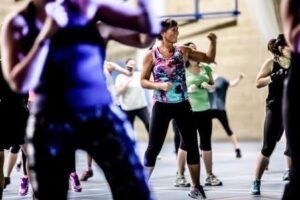 You and your family will feel at home in our club. We have something for everyone including fitness programmes, extensive Swimming opportunities and a variety of activities in the Kids Club & for the little ones our Crèche.
Our 25m Swimming Pool and Sauna will be open on the day at various times. There is also Gala running for Bluecoats current swim school children and a family fun splash open to all, booking for both is highly recommended and can be done via Reception or our swim school team.
Go ahead, share the fitness fun and why not bring a friend for the day all free of charge, where you can hit the Squash courts, take part in a class, or go for a swim. Getting active is that much easier when you've got a fitness buddy to enjoy the fun too!
We will also welcome a number of health, food & nutrition stands to compliment the treatment therapists that we will have in club on the day.
Don't forget to book onto a class to receive your free Fitness Showcase t-shirt! #showcaseselfie and get tweeting, liking and sharing today!
We very much look forward to seeing you on the day!