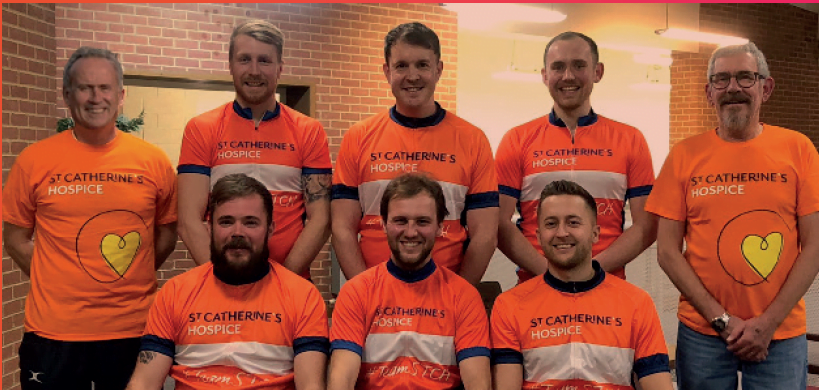 Bluecoat Sports is pleased to sponsor Paul Hebden and his team as they cycle 1,000 miles in support of St Catherine's Hospice
Horsham to Nice Charity Challenge (1000miles) Saturday 8th June – Tuesday 18th June 2019
On Saturday 8th June 2019, a team of six riders, a support van and two support drivers will embark on a huge charity cycling challenge, riding from Horsham in West Sussex, to Nice in the South of France.
Why on earth would we do that do you ask?
Are we sure?
Isn't that a bit far?
Are you nervous?
The answer to all of those questions is yes, but we are doing it to raise funds for St Catherine's Hospice in Crawley, to support the people who need the hospice services for end of life care. We're happy to do anything we can to support such a good cause.
We hope to raise £20,000
It costs St Catherine's Hospice approximately £10million a year to operate and provide the levels of support they achieve. They only receive one third of that from Government funding, and the rest comes from people like ourselves who raise money for them.
We have set ourselves an ambitious fundraising target of £20,000, so please help us if you are able to.
'the facilities on offer have been superb'
One of the riders, Paul Hebden stated, "On my 30th Birthday myself and three friends ran the London Marathon for St Catherine's Hospice to raise funds, and this year is my 40th Birthday and I wanted to undertake a challenge that not only pushed me to the limit personally but also would hopefully be more impressive to people wishing to sponsor us, so I started recruiting and now have a full team of eight riders/support crew.
Bluecoat Sports have been kind enough to offer the team six months free membership to help them to prepare through the winter months. The facilities on offer have been superb with regards to the spin classes, gym, fitness classes and swimming pool and we are so grateful to them for their support. The team have been training hard in the gym and doing weekend riding sessions and are well on their way to being prepared for Saturday 8th June.
Launch event
On Saturday 25th May we are having a Launch Event in Horsham Carfax (10am-4pm). It would be great to see as many people as possible that would love to come and see us and to say hello. Anyone able to offer some help, we will be doing charity collections on the day."
We wish Paul and his team a safe trip as they embark on this amazing adventure.
Follow them on Facebook and Instagram – Horsham2Nice2019.
To support the team with a donation, please visit their giving page.