Bluecoat Sports Health & Fitness, or as otherwise known – "Horsham's Best Kept Secret", are proud to be the main sponsors of the Barns Green Half Marathon. Phenomenally, this is the 32nd time that the event has taken place!
The organisation of this event has always been excellent and Runners World recognised this in 2012.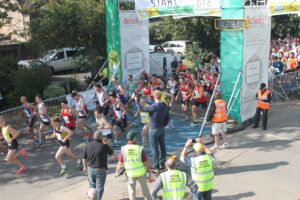 This year the charity that Barns Green Half Marathon are supporting are the Sussex Air Ambulance. Being a local charity this is close to many people's hearts in the area. Sussex Air Ambulance perform an amazing job in the community and this year we are fully behind them in helping raise the £6m that they need to continue their fantastic work for another year.
The big day is Sunday 28th September 2014. The runners will be setting their pace through the beautiful West Sussex countryside and the grounds of our very own Christ's Hospital School. They will be greeted by uplifting music as they pass through the grounds, in hope to take their minds off those aching limbs, if even for a short period of time! The music will be played by the exceptionally talented Christ's Hospital School Marching Band, definitely worth listening out for.
If you are visiting the event be sure to visit our marquee where our friendly and helpful staff will be on hand to answer any questions that you may have about the extensive facilities and activities that are on offer at the Club (we will be the ones with the bubble machine – you won't be able to miss us!) You could even be in with a chance to win yourself a month's free membership.
This event isn't only for fun and fitness enthusiasts, there is also cash prize money up for grabs for various categories such as fancy dress or beating the fastest previous time!
The event will be bustling with people and is expected to attract at least 1800 runners – and that's without all the supporters! Therefore, the surrounding roads will be shutting at 10:30 for a sharp 11:00 o'clock start. We advise that you give yourself plenty of time to get parked and settled before the race sets off.
Don't forget to collect you're goodie bag at the end of the race if you are taking part.
It's still not too late to enter – sign up online.

Finally GOOD LUCK! We look forward to seeing you there.