Later this year two of our Members will be undertaking this epic cycle challenge from Vietnam to Cambodia to raise funds for Macmillan Cancer Support.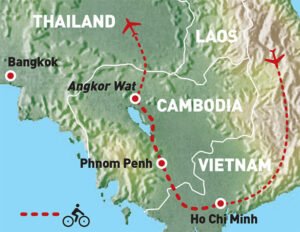 This year 2.5 million people will be 'living with' cancer in the UK. Our challenge starts in Ho Chi Minh City and runs 331 miles through rice paddies and the Mekong Delta, finishing at the temples of Angkor Wat. The event takes place from 17th-28th October and you can follow our epic challenge; from training now, leaving Ho Chi Minh City on October 18th, arriving in Angkor Wat on October 27th, to finally returning to the UK on October 28th. We have pledged to raise £8000 for Macmillan Cancer Cupport and will be hosting events across the next few months. You can donate through just giving by clicking here.

If you see us whilst training, we are usually in the Monday and Friday morning Spin classes, please show your support and encouragement, after all we are just two 'forty-something' year old girls with a little energy and a lot of determination (not to mention a little madness) left in us to support this worthy cause.

7th February 2015
Big thank you to all who kindly donated to our Macmillan Cancer Support Bike Challenge. Your kind pennies totalled over £53 – thank you! We had a great day watching other people exercising – for a change. Plus we got a sneaky few miles in on the Spin bikes!
14th May 2015
On Thursday 14th May we cycled all day on the Spin bikes at Bluecoat Sports in order to try and raise a few more pennies. We started at 0630 and cycled our butts off until the Club closed at 2200! We made it – 518.7km in 15.5hrs and £294.24 raised! A huge thank you to everyone who supported us, there were lots of lovely people who made us laugh and kept us going. A special mention to the wonderful Reception staff, who had to listen to us cackling and moaning / groaning during the day!

Lisa Moore & Anita Tarrant
Bluecoat Sports Members