It has been a rollercoaster…
There have been so many changes over the years to Kids Club and as my 4th year in charge I can proudly say they have all made Kids Club the wonderful holiday club that it is and this my favourite Summer to date. We have welcomed new staff to the team, sadly said goodbye to others and even have a shiny new base to call our home!
We have had our tough days, we have had our quiet days, yet through it all the fantastic spirit and fun loving energy of all the children has pulled us through. We have travelled around the world, gone to outer space, ventured into the world of Disney, become superheroes, spooked ourselves, hopped like bunnies and done everything Alice. Surely a time for a rest you would think… but here at Bluecoats we are always on the go and coming next is an extravagant expedition into the world of wizardry.
October Half Term kicks off on Monday 27th October and you are promised a Harry Potter themed week of fun, magical craft, fun 'n' games and a special Halloween party on Friday. Get those costumes at the ready because the spook fest begins here!
Keeping Active…
The Summer was actio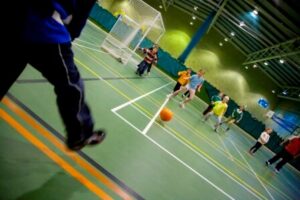 n packed with taster sessions in tennis, badminton, table tennis, football, cricket, dance and Trampolining offered each week.
What can we possibly add next? We are always looking for more ways to channel the energy of our bundles of joy and sought the assistance of the Kids Club team (known for their own pockets full of liveliness) and have come up with a fresh new activity programme.
This will go live in October half term and promises more team sports, more fun 'n' games and lots more creativity. There will be greater emphasis on the importance of play and imagination, and how this is channeled through art as well as sport.
The activities we are able to offer are a credit to the talent and skill amongst not only my own staff team, but that of Bluecoat Sports, and with our age split we are now able to offer a greater scope of coaching and proficiency into our busy activity programme.
We are determined that there will be a future Olympic champion starting their sporting career at Bluecoat Sports Kids Club.
Where does it all begin…
It's often forgotten that we open our doors 4 mornings a week for 3 and 4 year olds. Based in our Nursery we offer 3 hours of sensory, creative and imaginative play – complete with a special visit to the bouncy castle of course!
We appreciate this can be a big step for someone so little and we provide a setting and programme to mirror that of nurseries and pre-schools to help them settle in. Couple this with the knowledge and experience of our staff team and your little ones are sure to have an enjoyable time.
Why not come and visit us at the Nursery on Monday 27th October 9am – 12pm for an Open Morning together with your little one and experience the fun for yourself.
Remember…
It is imperative all places are booked in advance. Bookings for October Half Term are open now so get those diaries ready and we look forward to seeing you there.
Krystle Simspon
Kids Activities Manager